Aviation has been known to take certain design cues from the automotive industry, and new technologies are making both sectors resemble each other more than ever. As airlines look to the next generation of aircraft cabin design, how might their interiors complement the luxury offerings available in cars? 
Runway Girl Network sat down with veteran transport designer John Tighe to discuss changes in both sectors and what's on the horizon. Tighe was a design director for JPA Design before moving to work with Bentley via his own design company. 
In many ways, he notes, automation will make cars more like planes as occupants will in time be able to engage in more entertaining or productive activities than simply driving. But while radical changes in design can be fitted into a familiar environment, "consumers can only tolerate innovation in different areas step by step."
The Tesla Model S, for example — which boasts autopilot features — "was revolutionary in some areas, but traditional in others," says Tighe. And the electric BMW i3, which was considered too ahead of its time when it debuted, ultimately came into its own towards the end of its life as other producers caught up, making it seem more mainstream.
Parallels can be drawn to innovations in aircraft seating. Collins Aerospace's nest-like, no-recline AirLounge seat, for instance, replaces the now ubiquitous lie-flat design with a fixed shell seat and ottoman.
Like the automotive industry, airlines are having to adapt their products to meet emerging passenger segments. The new front row business-plus seating trend in aviation is a visible example of how this segmentation can be transposed. Another is the rise of premium leisure, which requires a variation of service.
"Mercedes is known to be good at this, in one product such as the S Class which has a core appeal as a subtle luxury product, but is also offered as a Maybach for extrovert luxurians, and as an AMG for sportier, often younger customers," notes Tighe.
The designer's own work with Bentley also serves as a good example. "We need to use the heritage of the brand, whilst transforming its appeal to work for new customer demographics, which are very different and broad in their tastes. It's difficult to navigate, but we're finding the right paths."
On the entertainment front, carmakers face an important question — should they compete with the tech giants to produce their own software, or just use a pre-existing product such as the CarPlay OS? If they do the latter, suggests Tighe, "they are losing part of their brand identity and development".
This is something with which airlines will also increasingly have to contend as passengers seek to stream their own OTT entertainment subscriptions over inflight Internet systems versus using the installed IFE system with cached content. How might this effect premium airline brands, in particular, where differentiation is a larger part of the experience?
For both industries, there is a risk in offering the very latest technology on the assumption it will stay mainstream. Apple's technology evolution has served up many a conundrum in aviation, for instance.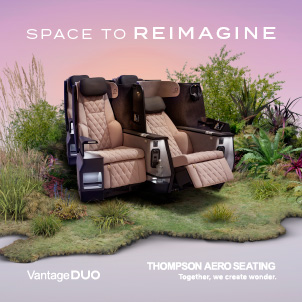 There is also something to be said for novelty when seeking to attract the premium passenger — whether in aviation or automotive.
"Ride sharing is a good example of this. Uber was revolutionary at first, but now it's part of modern life. Attracting premium customers becomes harder once everyone is using it," notes Tighe.
There are opportunities to provide alternatives to ridesharing, such as luxury ground transfers. But the renewed focus on building brand engagement on the ground could spur the development of other complementary services beyond travel, according to Tighe.
"Through this, you can design brand ecosystems that ensure luxury throughout the user experience."
Featured image credited to John Walton