'folding house' by x11 design studio balances nature with voids
Vietnam-based X11 Design Studio recently completed 'Folding House,' a narrow and elongated private residence tucked within a street in Hanoi. Inspired by paper folds, the concrete dwelling, punctuated by deeply saturated wood accents, features flexible transitions from one level to the next, with lush greenery slowly spreading upwards to all corners.
'We developed a vertical relationship between void and garden throughout the house, making air convection and microclimate regulation more effective. This also increases the connection between family members, people, and nature in the most harmonious way. Furthermore, concrete, rustic brick combined with some natural materials such as stone, wood, and trees bring a tropical breath to the building, creating inspiration for the growth of trees, natural light, and ventilation,' writes the studio.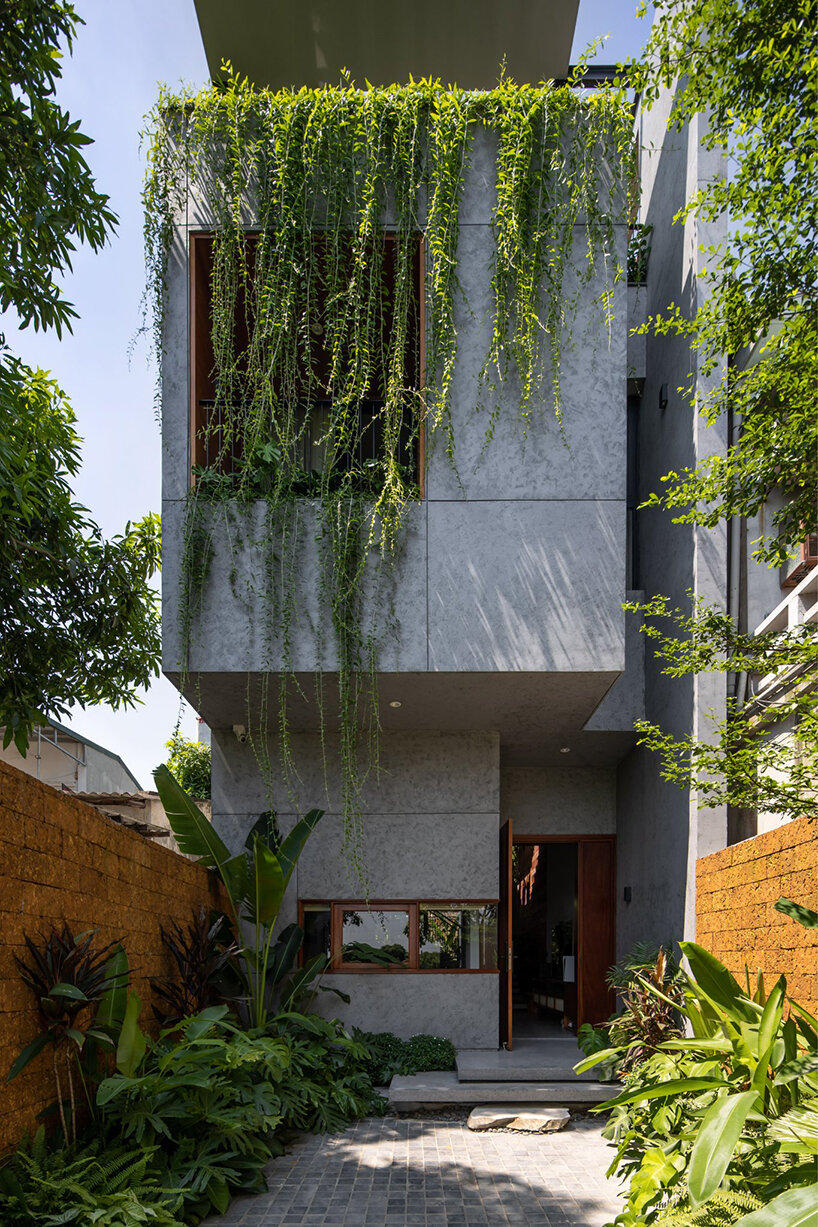 all images © Hoang Le, courtesy of X11 Design Studio 
skylights and gardens: injecting a tropical breath 
Three courtyards are arranged alternately on the first floor of the 'Folding House' to create viewing points and regulate the microclimate of the entire building. Upon entering the main door, a light-filled, split-level space with reverse stairs greets the owners. Enlivened by fresh patches of indoor planting, this volumetric feature serves as a gentle transition from the living room to the kitchen, both connected via a skylight and a small central garden, where the main traffic axis begins.
Moving upwards to the top of the residence, a small yet incredibly lush garden offers children a DYI space to nurture and take care of the tree with their hands. It's also a social space where family and friends can gather, relax and organize intimate gatherings.
Finally, the team at X11 Design Studio fitted two light sources — one at the front and another in the main atrium — to help illuminate auxiliary functions such as corridors, stairs, and toilets to receive natural light and ventilation.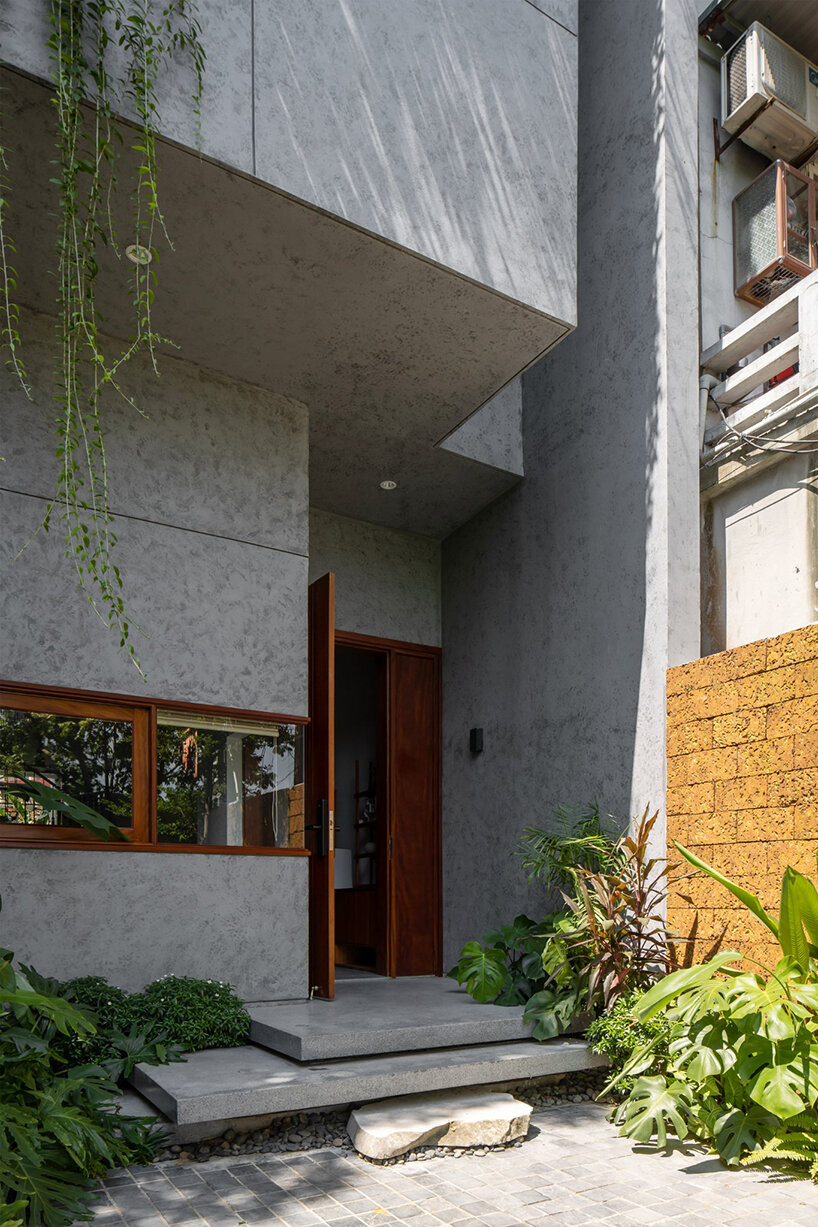 solid wall panels and planting reduce sun radiation from the southwest + smoke, dirt and noise pollution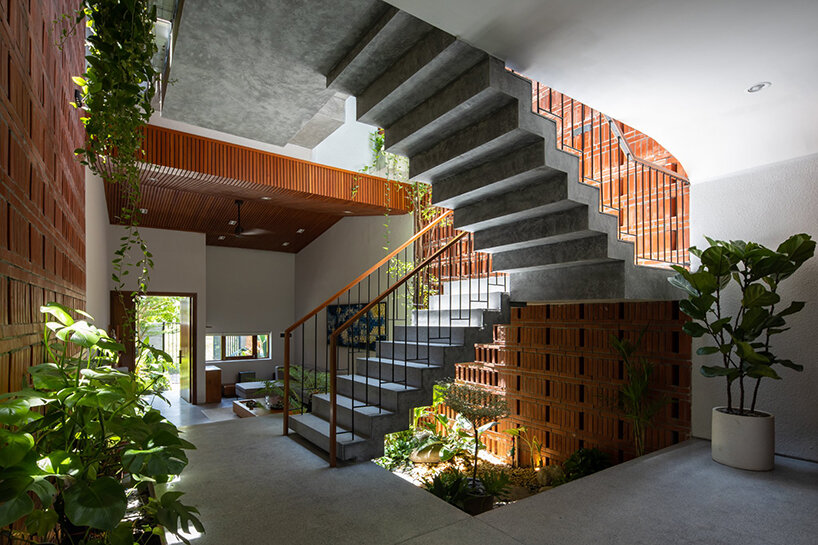 split-level space illuminated by a skylight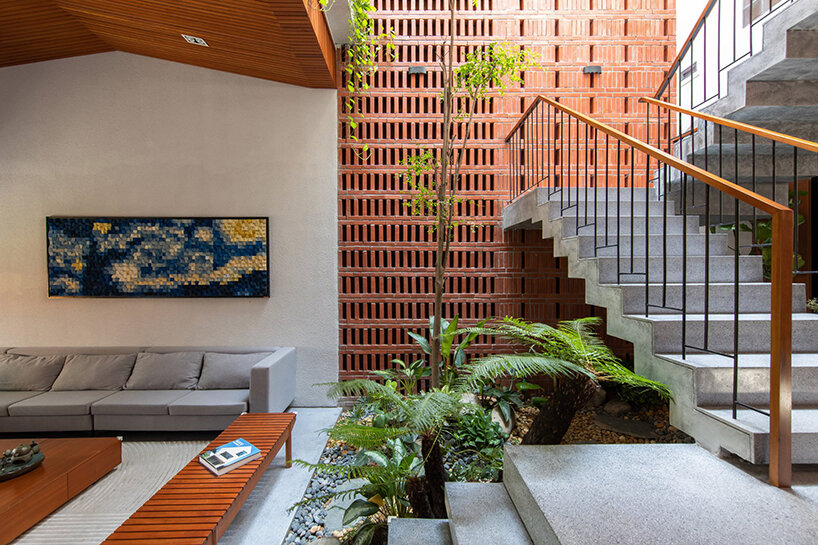 a central garden that links the living room to the kitchen