Our small guest room ideas are perfect, whether you're keeping a room ready for surprise drop-ins, preparing for holiday arrivals or just a long-awaited visit from family or friends. 
A trick often missed when revamping a guest room is to make it feel as comfortable as other rooms in the house. Whether you want the space to feel bright, soothing, spacious or cozy, always put comfort first with all your guest bedroom ideas.
Small guest room ideas 
In your zeal to be creative in every other area of your home, don't forget the small guest room or spare room, says Irene Gunter, founder of Gunter & Co. 
'To make your bedroom ideas inviting think about texture. Fabric walling doesn't have to cost a fortune and will transform the space, making it look sophisticated while feeling cozy and warm.' 
By the same token, use proper Roman blinds or curtains. Also be a bit punchier with pattern or color. 'You can risk it here,' says Irene. Make sure the small guest room doesn't have a neglected ambience and hang as many pictures as you'd have in your own bedroom. Then add details, such as fresh flowers or even faux flowers – the best ones will make the spare room look ready for action if any last-minute guests arrive.
We spoke to the experts for their favorite small guest room ideas to inspire your next bedroom remodel. 
1. Add depth and interest with dark shades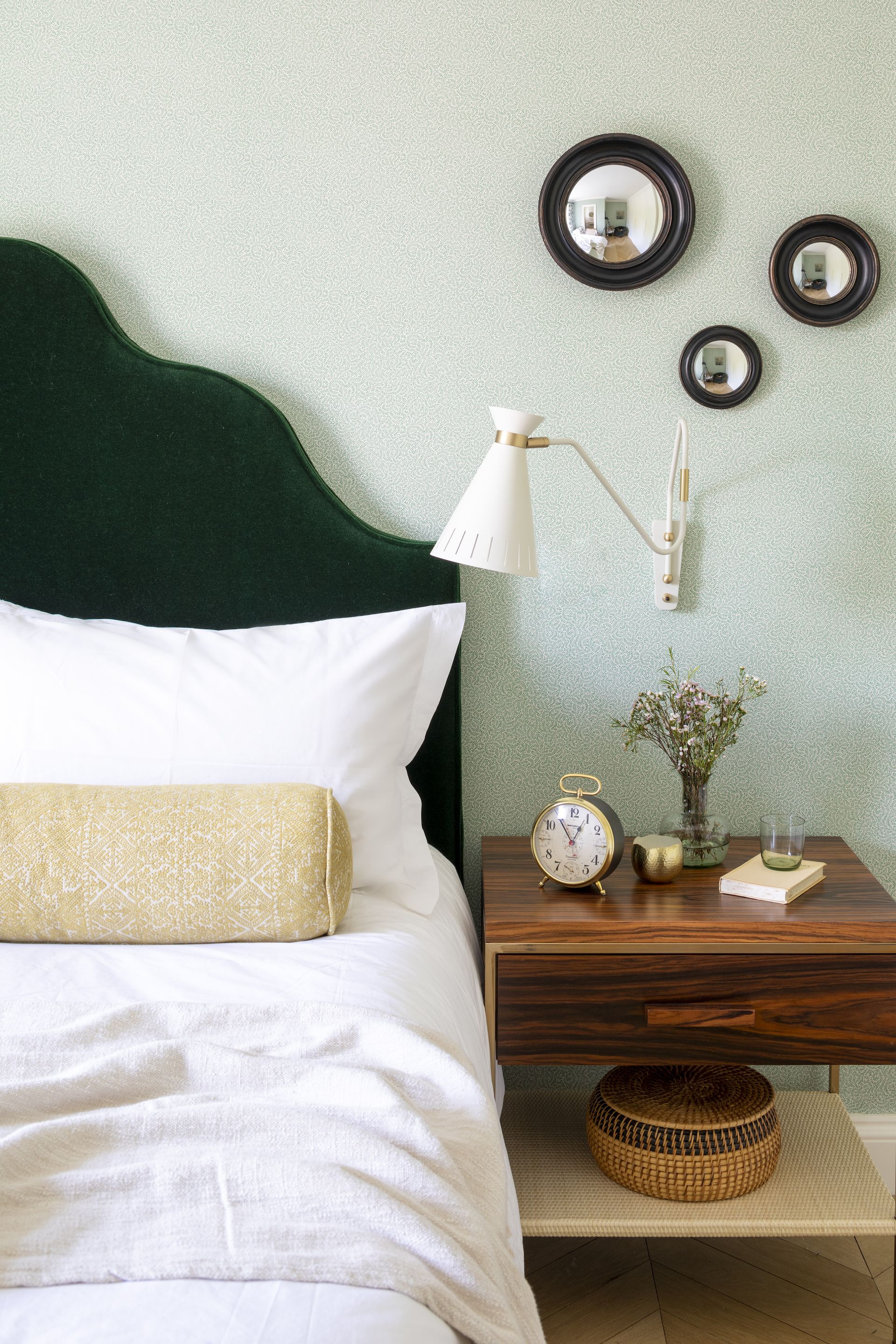 Velvet decor ideas can be used in a small guest room to add luxurious texture and depth. Luxurious and eclectic, velvet gives furnishings a deluxe update this season. Use a sultry palette of jewel tones, these dramatic looks have rich, heritage-meets-fashion attitude. Velvet is also a beautiful way to soften hard architecture. 
In this guest room, we used Soane's 'Coral Green' wallpaper to provide a fresh and calming backdrop, creating a beautiful neutral base for the rich, jewel-toned and contrasting Forest Green Pierre Frey velvet which accentuates the soft scalloped form of the headboard,' says Clara Ewart, head of design at Kitesgrove (opens in new tab). 
2. Be consistent with your walls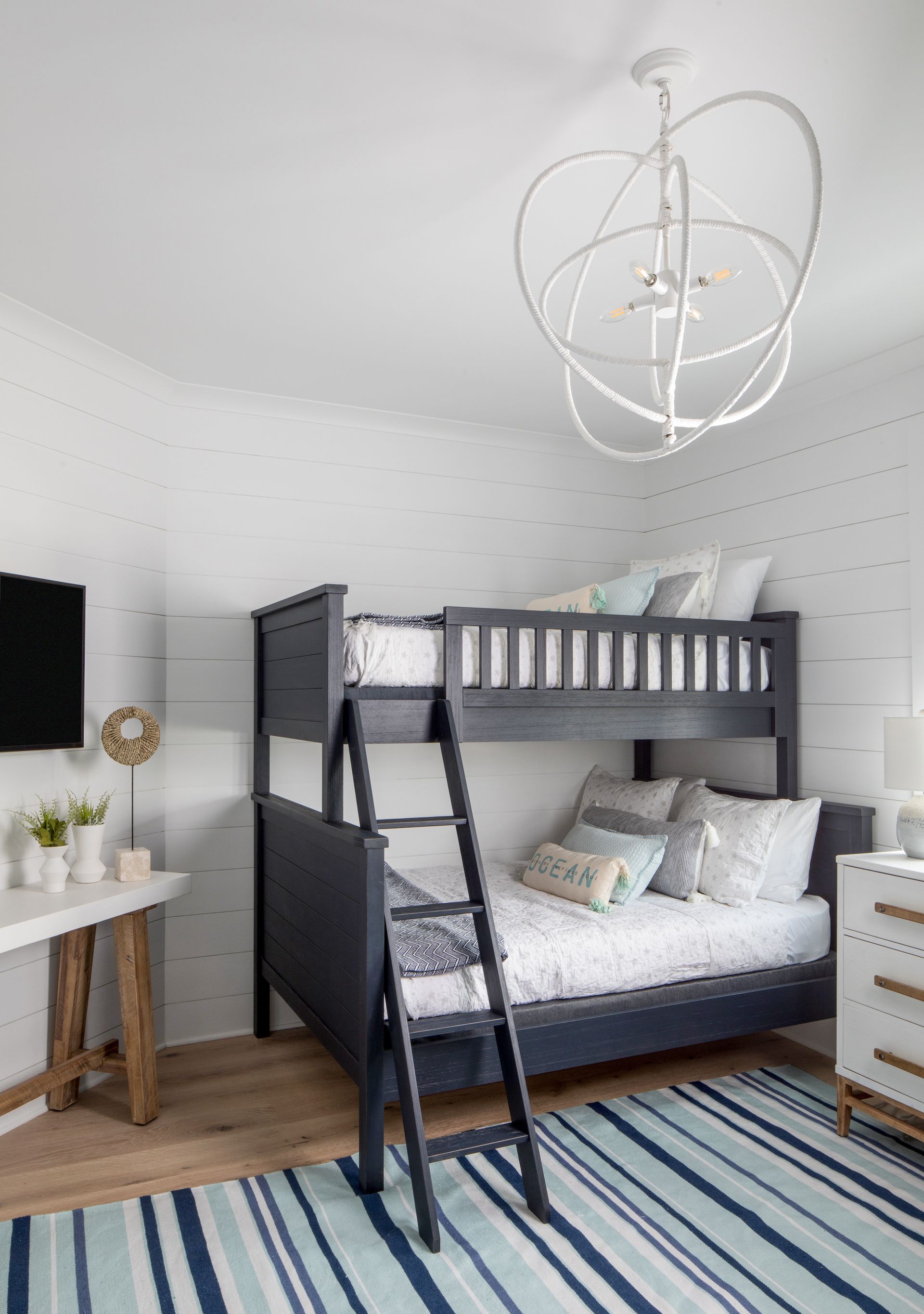 When it comes to wall paneling and shiplap wall ideas, there are many styles available to suit the age of your house and personal taste, making them a beautiful addition to a small room.
'We made the most of this small guest bedroom by using shiplap bedroom wall ideas around the entire room to make the space more consistent and expansive,' says Karen B Wolf, creative principal and owner of Karen B Wolf Interiors (opens in new tab). 
Shiplap is also a great way to ensure your small guest room is warm, cozy – and looks expensive.
3. Keep it simple with a pared back look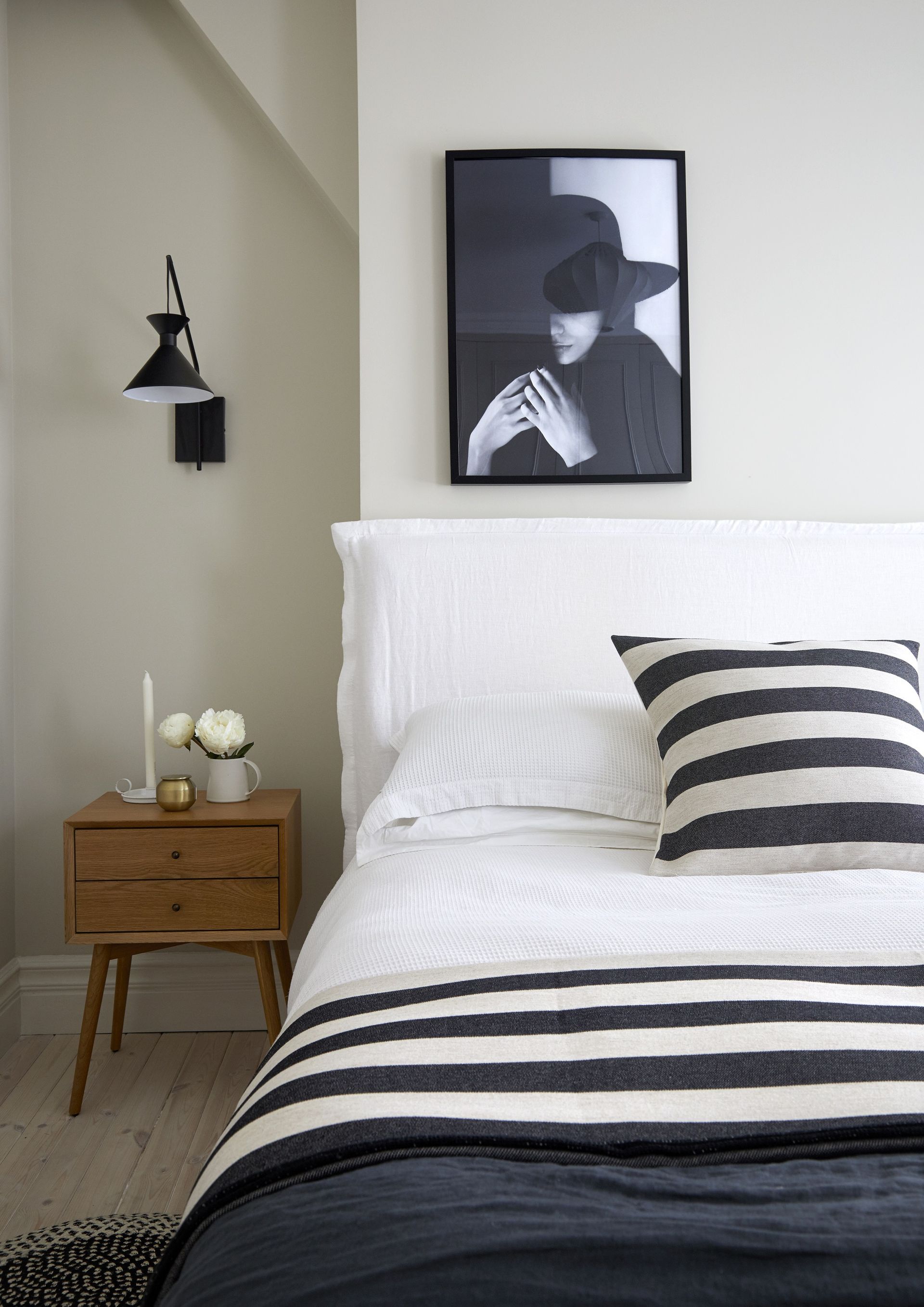 Minimalist guest room rooms can be tricky to get right. Creating a pared-back space that also exudes luxurious comfort can be a hard balance to strike, but with careful consideration it can be achieved. 
Decorating with white is often the default for a small or minimalist room, however, this can often leave spaces feeling cold, especially if the white is a brilliant or cool white. Opting for a scheme of warm neutrals such as stone tones, beiges and creams will ensure a the room feels relaxed and inviting, which is important when it comes to small guest rooms.
4. Opt for a scalloped headboard in a print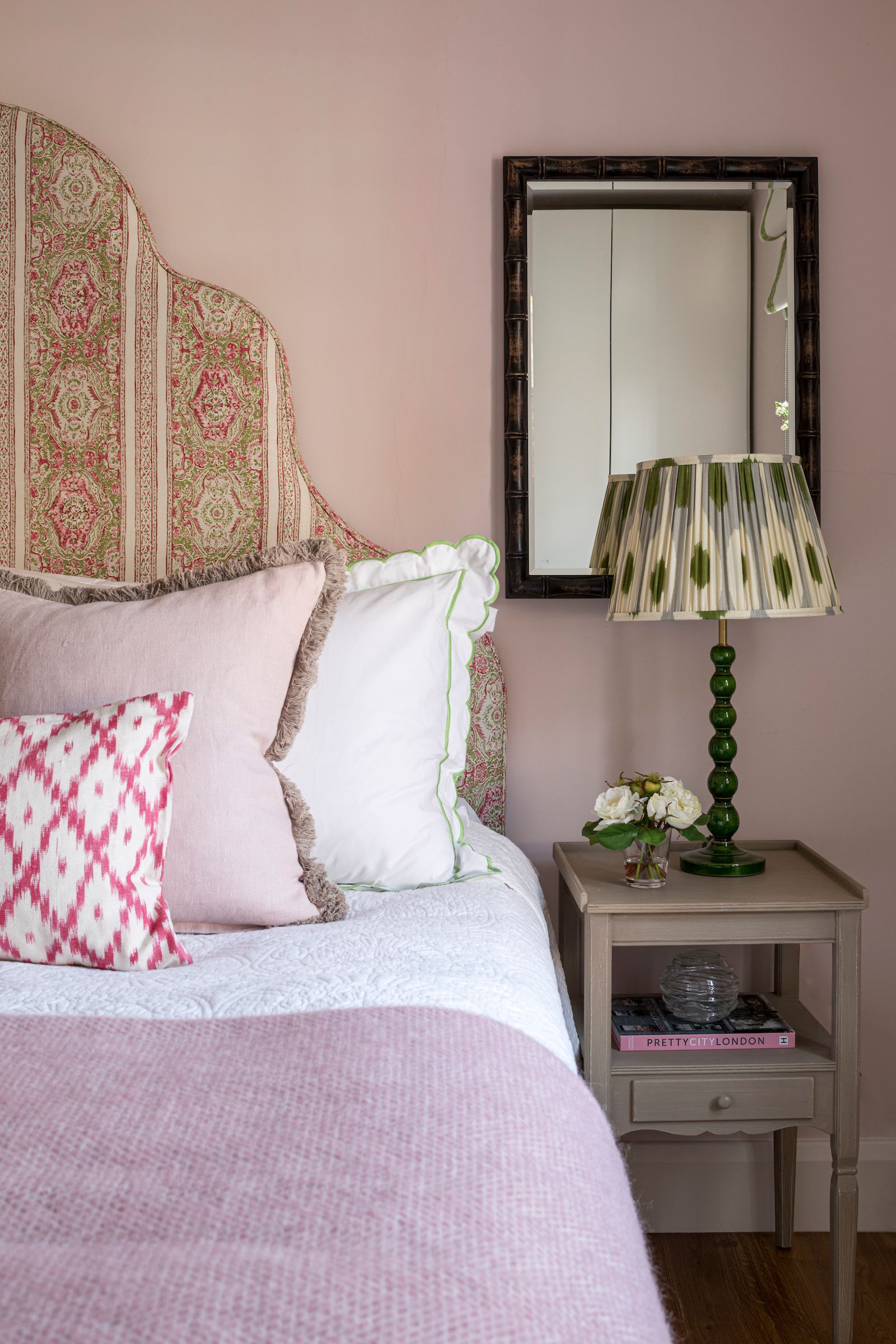 'When it comes to the tiny bedroom ideas, there are a few key things you should consider to make sure it's as beautiful as it is functional. As with any bedroom, an upholstered headboard in a statement shape will help create a focal point that will also act as an anchor for the overall design scheme. 
Choose a shape and design you love, and whether you opt for velvets in bold colors or a beautiful patterned fabric, use this as the base for the rest of your scheme. 
'Crisp white sheets will allude to the hotel-inspired feel, whilst opting for accessories in tones that complement your headboard will tie the look together and add that all-important balance,' says Emma Deterding, founder and creative director at Kelling Designs (opens in new tab). 
5. Fit in a compact shelf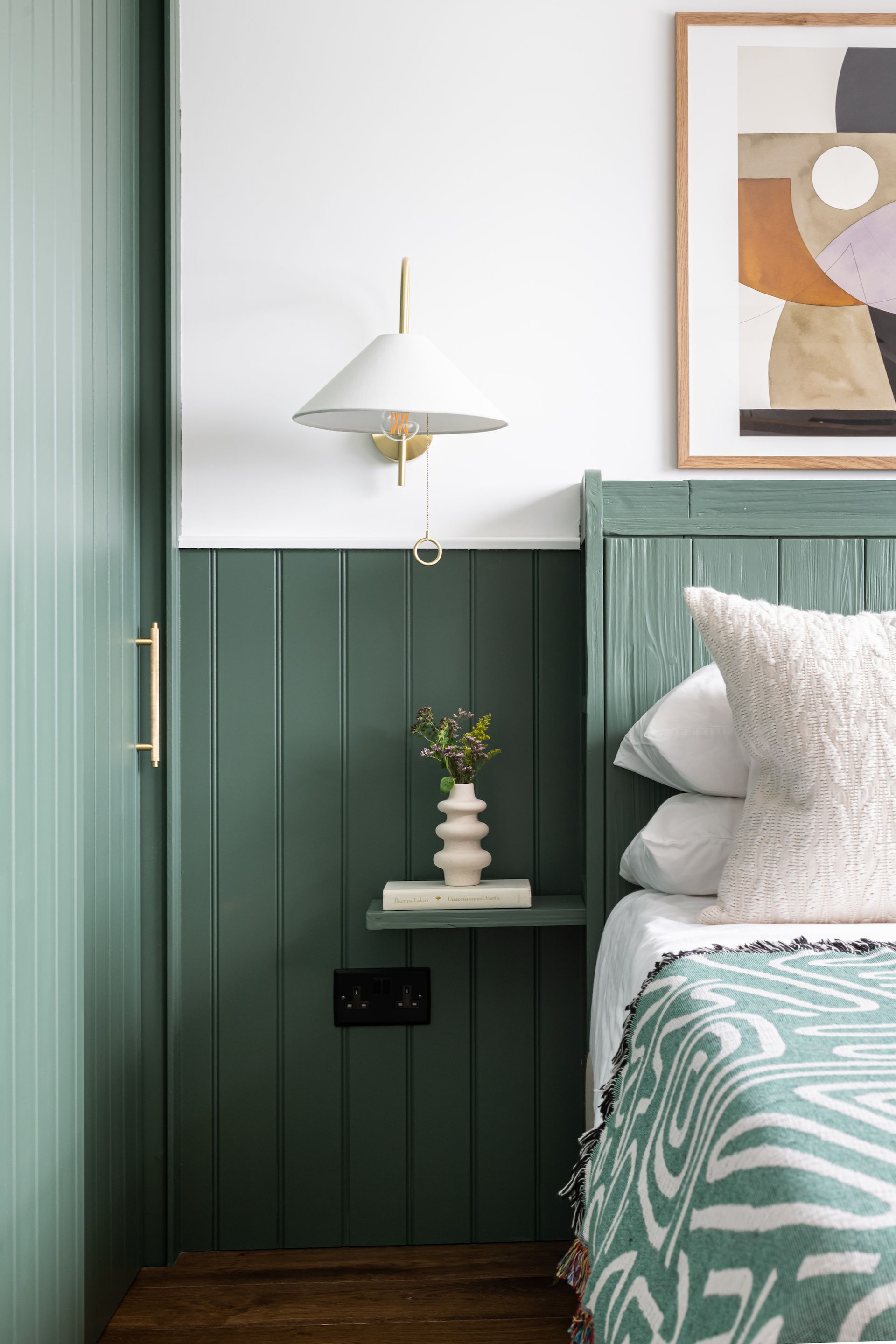 'With a little creativity, even the smallest of spaces can be functional,' says Jen & Mar, Co-founders of Interior Fox (opens in new tab). 'The bedside table area for example; instead of standard bedside tables and lamps, utilize the wall space by using wall lights and position a compact shelf directly underneath, this will give you just enough room to pop your phone on at night or a few decorative items. For a seamless look that will make a small bedroom look bigger, try painting the shelf the same color as the wall.'
6. Have some flexible solutions up your sleeve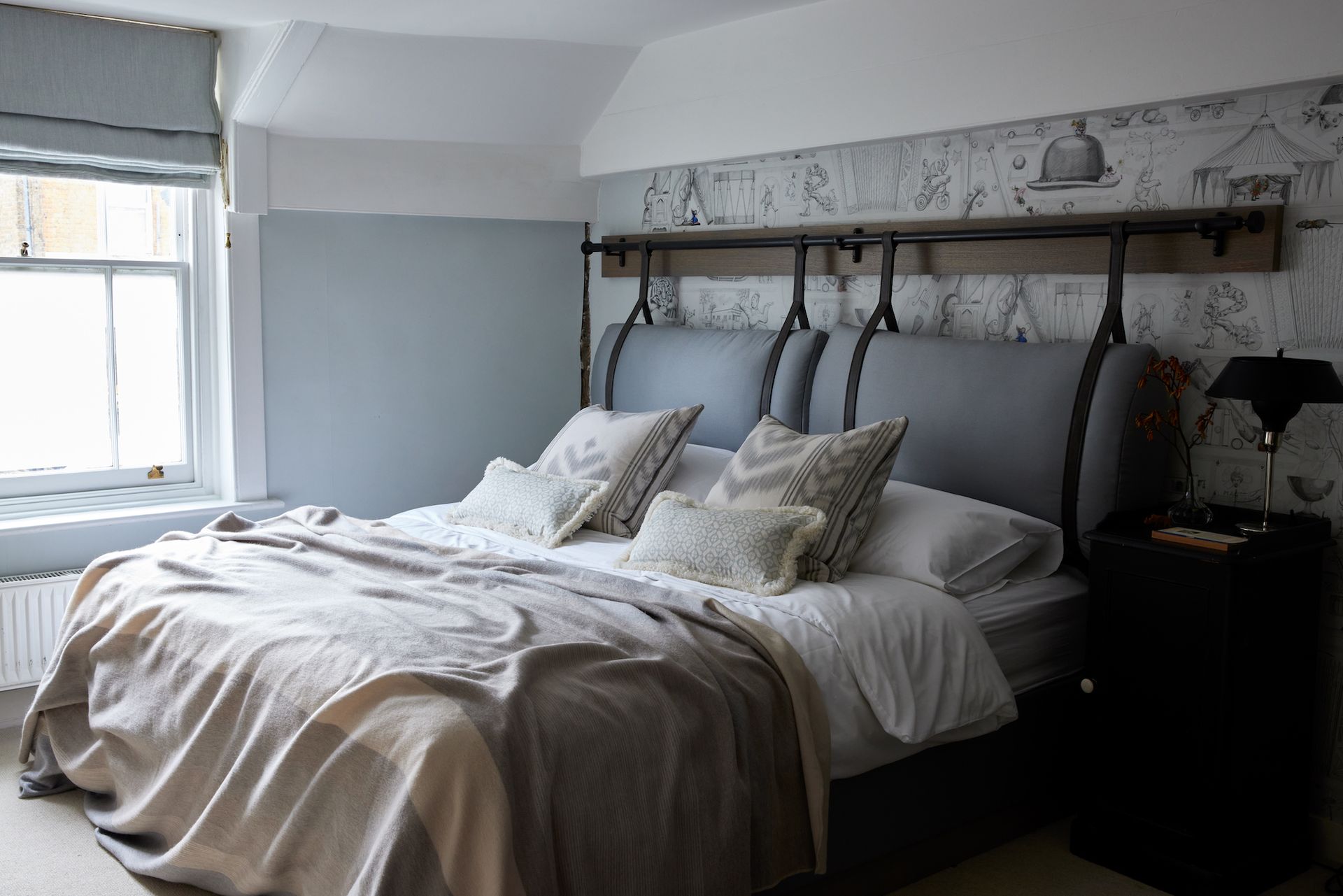 While pull-out beds and diminutive doubles are an obvious solution for occasional sleepovers, these aren't the only small bedroom ideas available. Thinking outside the box with bed ideas means searching for more than just hideaway beds, but for dual purpose furniture and small bedroom storage ideas, which can all make a big difference too and allow bedroom space to be fully utilized without leaving the room feeling cramped or crowded.
'I designed the bed with an antique curtain pole and separate headboards on leather straps above that can be moved together if the bedroom needed to be transformed into a double bed/two single beds for guests,' says Natascha Dartnall, founder of ND Studios (opens in new tab). 'A great example of how the house offers versatility to the families changing plans, the wallpaper is Pierre Frey, and cushions are Andrew Martin.'
7. A small guest room can still be impactful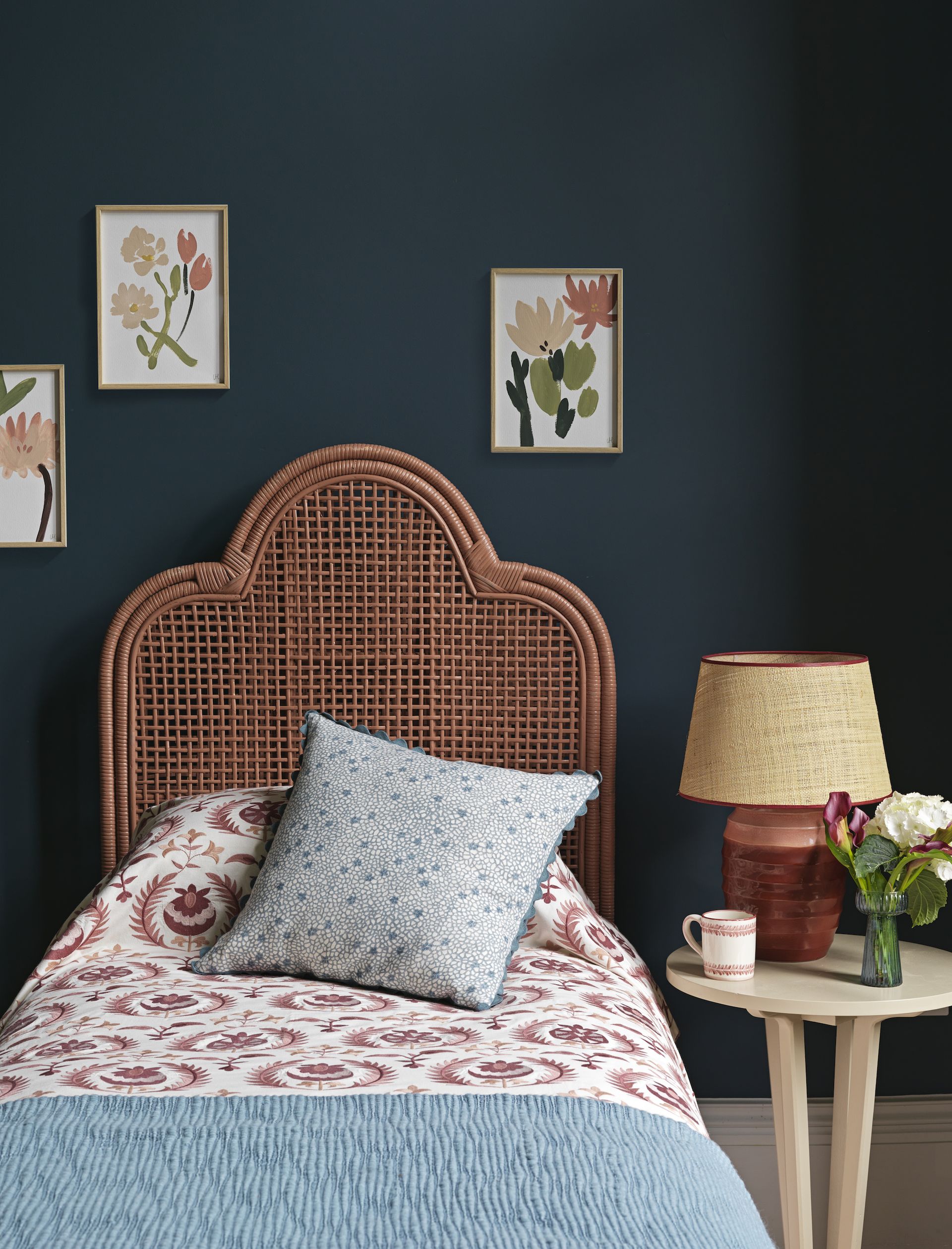 While lack of space is often an issue when arranging a small bedroom, in addition to space-saving furniture, there are lots of visual tricks and decorating techniques and bedroom paint ideas that can make a small bedroom look bigger – whether it's in a family house or is an apartment bedroom. 
'Small can be perfectly formed, so don't let the size of your guest room affect its decor,' says Andrea Childs, editor, Country Homes & Interiors. 'This beautiful inky blue color adds instant depth and it's softened by the painterly prints and curved rattan headboard. Keep bedding light but with pattern to tie in the artwork and choose a plain yet stylish side table.'
8. Don't forget to add your personal touch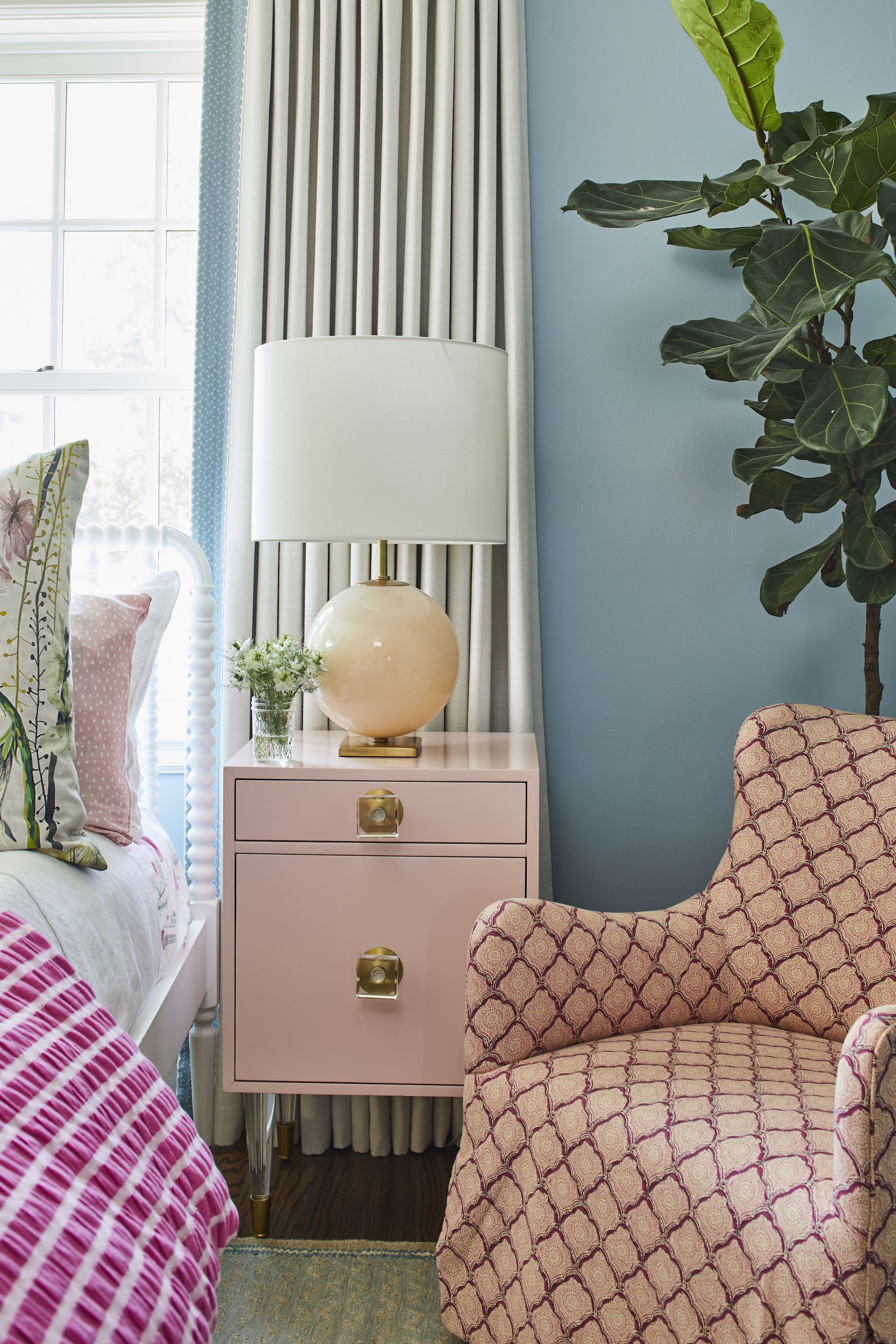 Have fun and personalize the space for guests – fresh flowers or plants provide a mood-lifting space and add photos or artwork that will remind them of past visits or times together.
'Choose bedroom color ideas and patterns that are likely to be universally appealing, it should be a place everyone would want to sleep in,' says Mel Bean, founder and lead interior designer of Mel Bean Interiors (opens in new tab). 
9. Choose beautiful and elegant storage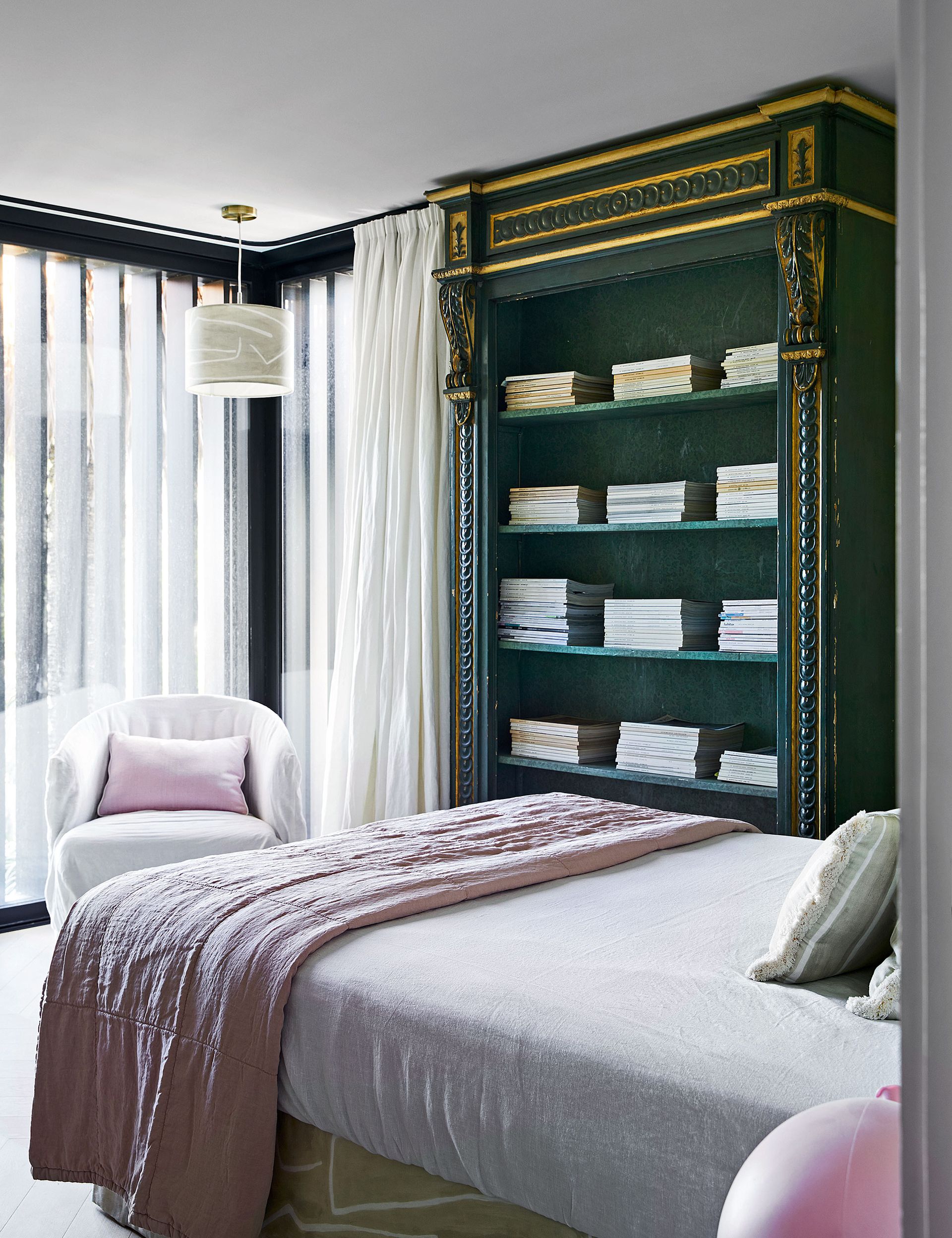 Small bedroom storage ideas should be creative and beautiful – there is no need to compromise on style in a tiny space. While the most important thing in a small guest room is to get clutter under control, it is also worth paying attention to how you can turn your bedroom storage into a focal point. 
Here, Sydney-based interior designer Tamsin Johnson developed this consciously sophisticated scheme with a rich green bookcase taking center stage. 
10. Embrace joyful color and pattern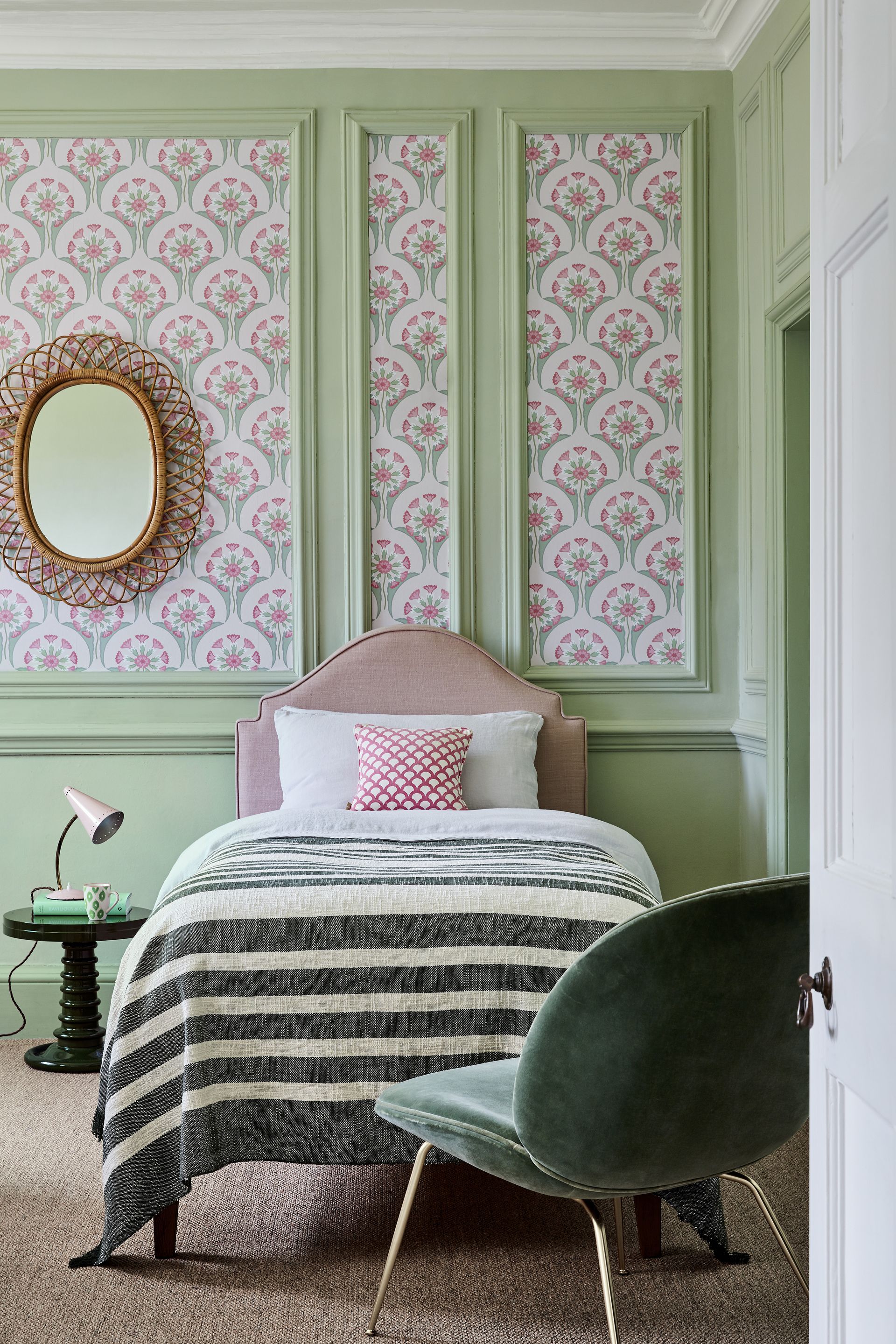 Small guest rooms are a wonderful space in which to embrace color and pattern to create an inviting and welcoming space. 
'Here, the fresh floral 'Hencroft' wallpaper design in Pink Primula, which features a repeating pattern of stylised cowslips, has been used within paneling to create a real sense of warmth and joy, whilst the 'Pea Green' paint on panelling brings a soft and peaceful feel to the space,' says Ruth Mottershead, creative director at Little Greene (opens in new tab).
How do you maximize a small guest room?
There are many beautiful ways to maximize a small guest room that don't compromise on style or comfort. 
The multipurpose study meets-spare-guest room is a typical solution in a smaller home and a daybed is a good option for such a space. Decorative choices will depend on which direction you want to go, either opting for a neutral backdrop and then adding pattern and color, or taking a bolder step. 
'Dark lacquered walls are smart in a study and pictures stand out well against them,' says interior designer Penny Morrison. 'When the room turns into a small guest room, bright lampshades can be introduced to add color accents, alongside boldly patterned cushions and throws for extra coziness.'