First impressions are everything, so make sure your summer door décor ideas are beautiful and seasonal. Whatever your space or budget, there are many ideas to make a difference to your own humble front door ideas.
Walk down the average street and you might well detect the first stirrings of a quiet, but distinctive, design revolution this springtime. The summer porch, that most practical but often overlooked element of our homes, is undergoing a transformation each season.
Unsurprisingly, bold paint hues and imaginative lighting are ensuring that the entrance to our home is no longer a decorative afterthought, left to the last phase of a building project, but an integral part of both the look and feel of the whole property.
Summer door decor – 8 styling tips for the season
When it comes to summer decor ideas, think in color, comfort and style. From a fresh coat of paint to brand-new door knockers, it's important to approach summer decorating with thought – and seek the right decorating advice. 
Pay attention to the finer details, because they can really make a home sing. The look of good quality door details, whether that be furniture, ornamentation or color, makes a far bigger impact than you would first imagine. 
This is the perfect opportunity to give your front door a new lease of life. Whatever the options, these summer door ideas need careful planning and consideration.
1. Refresh with a summer blue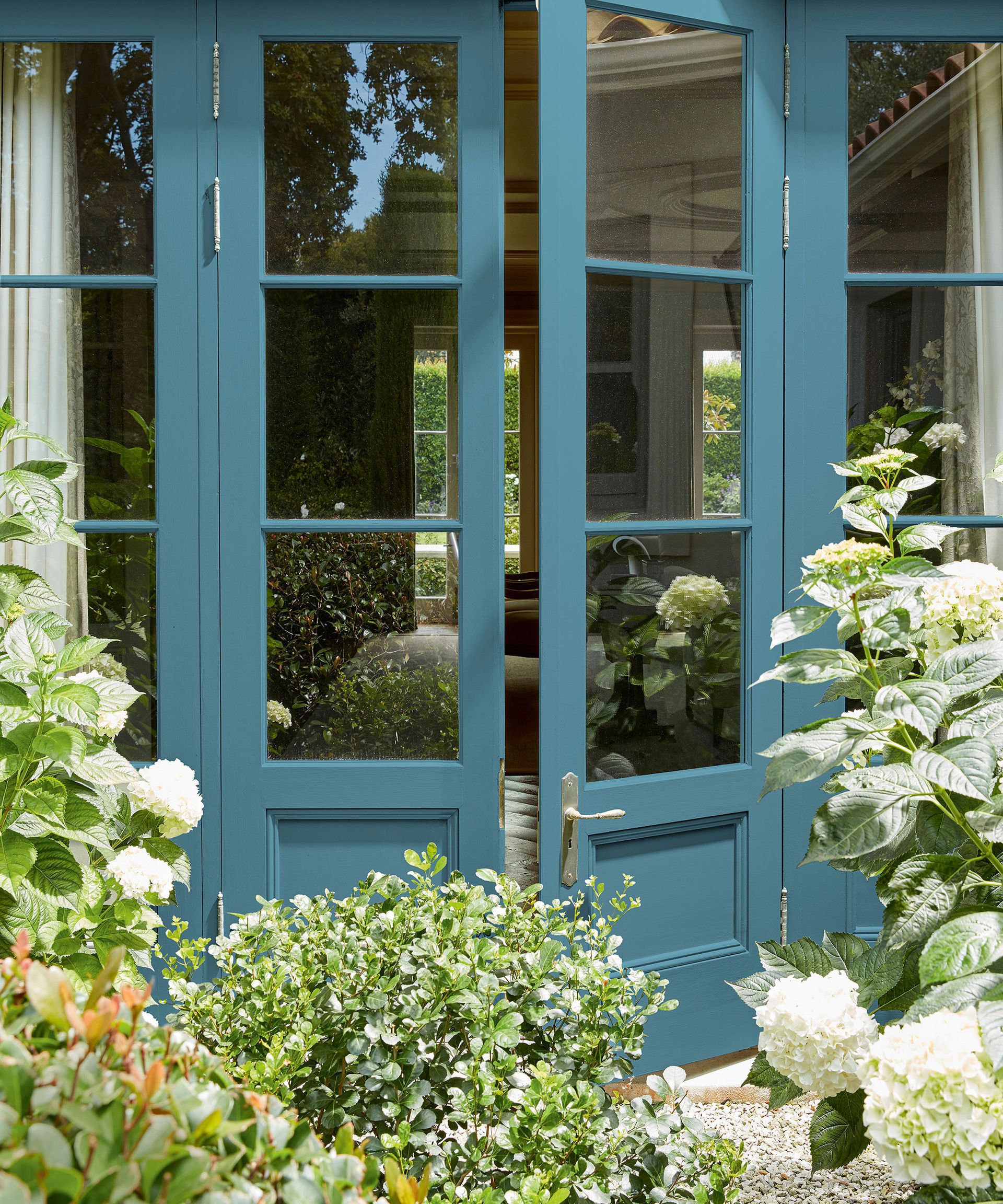 Mid-toned blues – ranging from the heritage Air Force blue to softer French blues, these classic colors have become the shades of choice for elegant interiors and exteriors. We love this mid-tone blue for being neither loud nor cold – it adds further beauty to this outdoor space.
'Historically, Air Force blue is in fact a generic term for a multitude of shades, mixed by individual squadrons, but our version is deeper and richer than some; even more so when used on all the walls of a room,' says Ruth Mottershead, creative director, Little Greene. 'Combine with soft whites for a classic blue and white scheme, or deep navy if you are looking for a bold modern feel.' 
Bold, impactful and elegant, this blue is known to be a very calming hue making it a great choice for the first door you see on entrance to a home.
2. Use an accent color to frame a door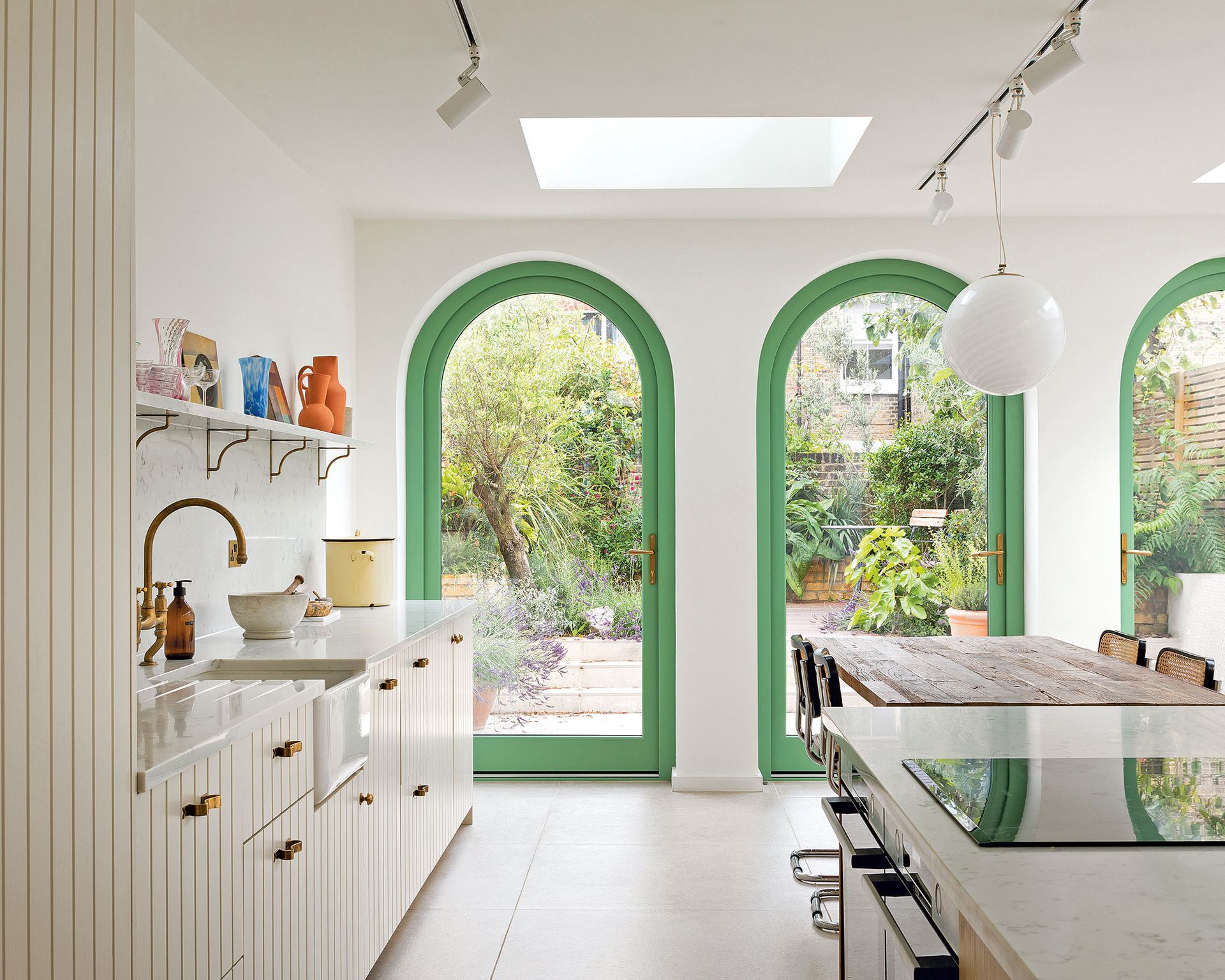 White has long been the go-to for window and door frames but plumping for a standout accent color for your summer door decor can prove more compelling. 
Here, Turner Architects used Farrow & Ball's Folly Green to frame the outdoor views and draw the eye through the space. The contrast also emphasizes the stunning curves in the arched doors, highlighting shape alongside color. In the otherwise neutral kitchen, this vibrant shade steals the show. 
'The color was selected from Raphael's School of Athens fresco, which was part of the design narrative throughout so there's nice continuity, too,' adds architect Paul Turner.
3. Use paint to create a visual feast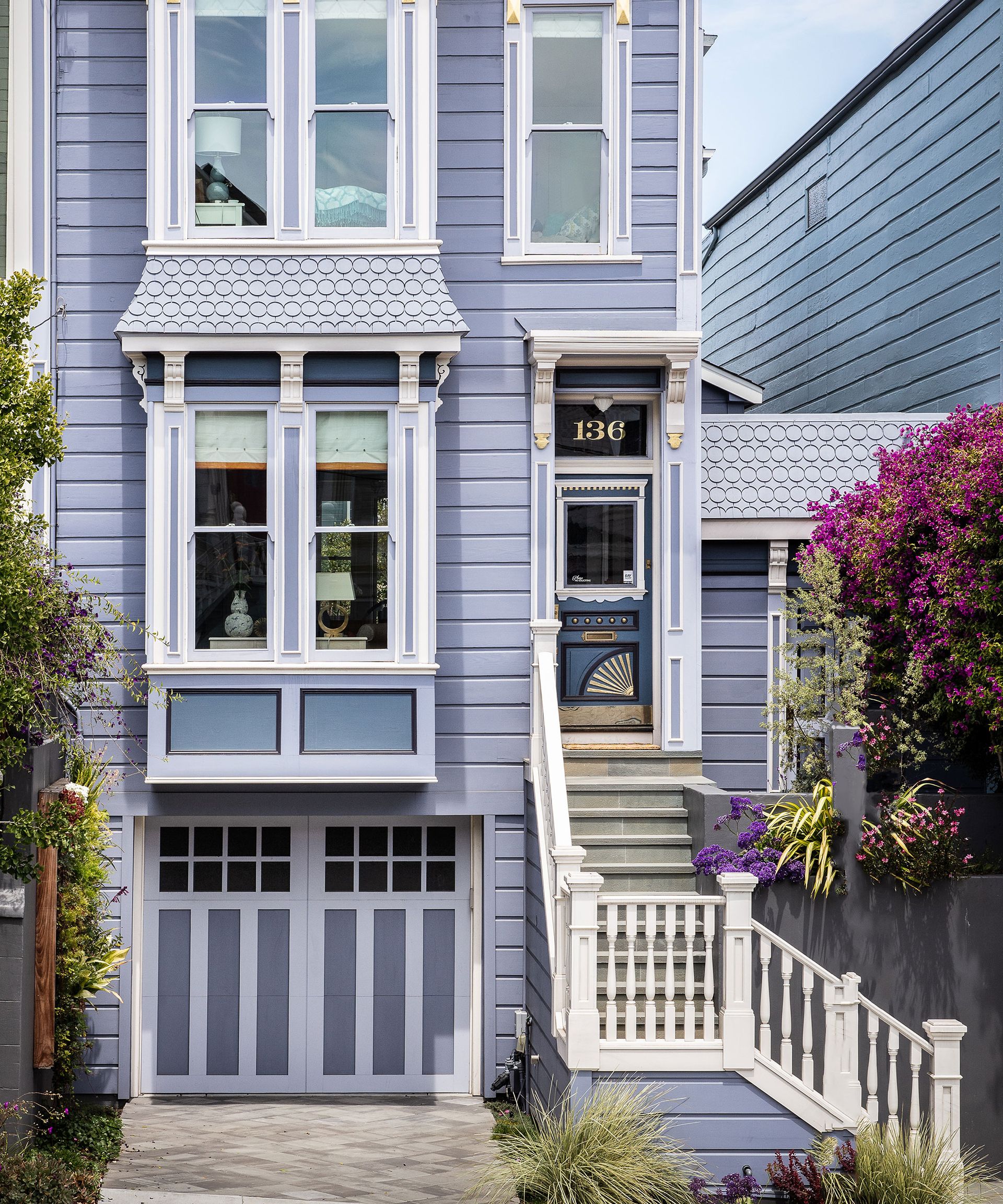 Beautiful summer door décor can be one of the easiest ways to revive the look of a tired exterior, while on a street of identical houses, use color and paint to give it a stamp of personality.
Imaginative and interesting, this standout home in the Noe Valley, designed by Heaton + Williams (opens in new tab) is a emboldened by its choice of color scheme. Not only has the entire façade been beautifully painted to create a statement, but creative and decorative door detailing is not only striking but also entirely personal and unique.
4. Add interest with topiary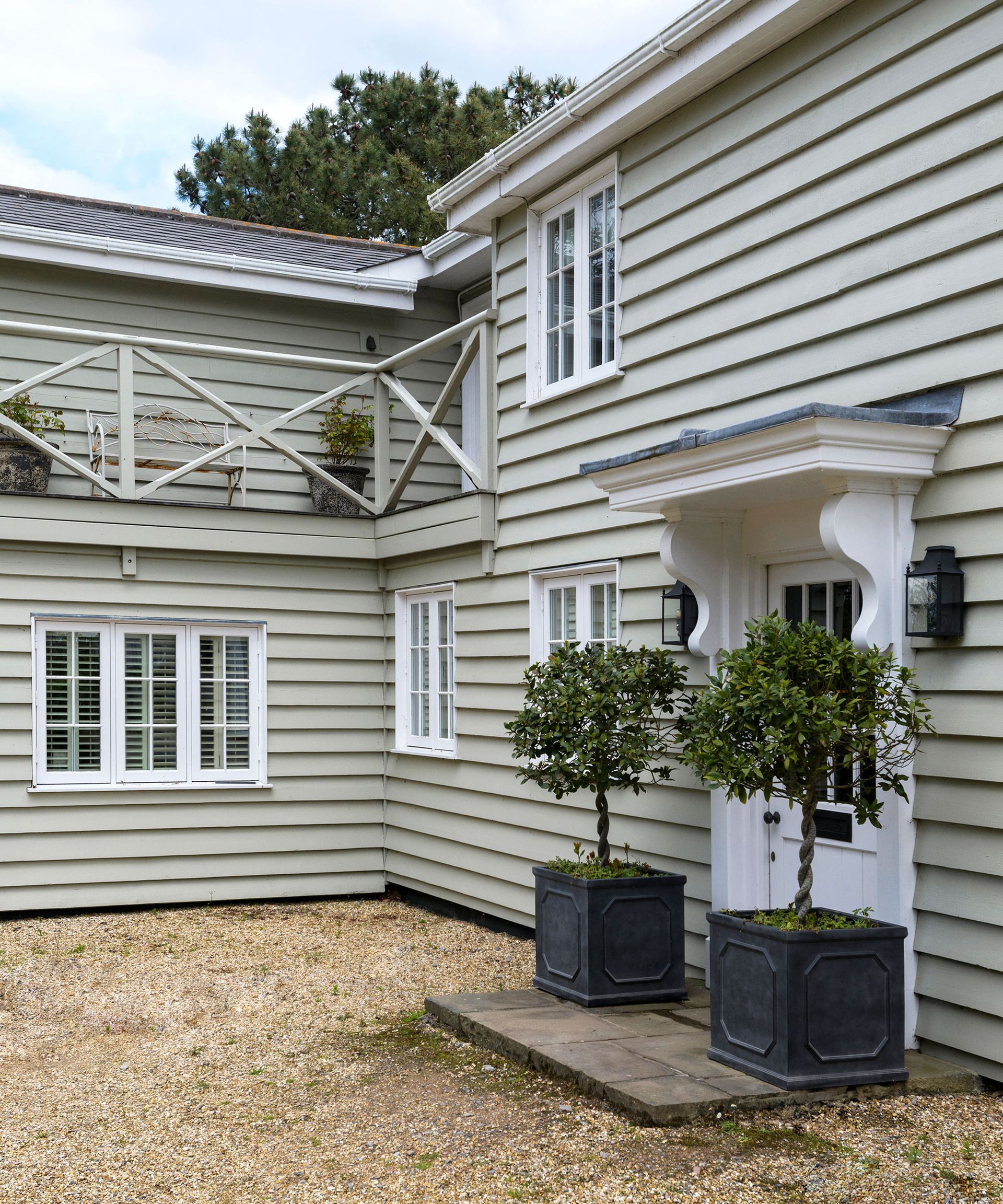 Summer is the perfect time to introduce a symmetrical pair of evergreen planters to your summer décor ideas, as demonstrated in this all-American space.
A multi-tasking feature, topiary is perfect for creating a strong punctuation point in your front yard landscaping. If you love the look of clipped evergreens, choose lollipop bay trees to add strong shapes that help to define your outdoor space. 
To make topiary, 'create a clear picture in your mind about the form you're going to create, then see yourself as a sculptor, gradually moulding it into shape,' explains Jeff Stephenson, head or horticulture at Bowles & Wyer (opens in new tab). 
5. Create a ray of sunshine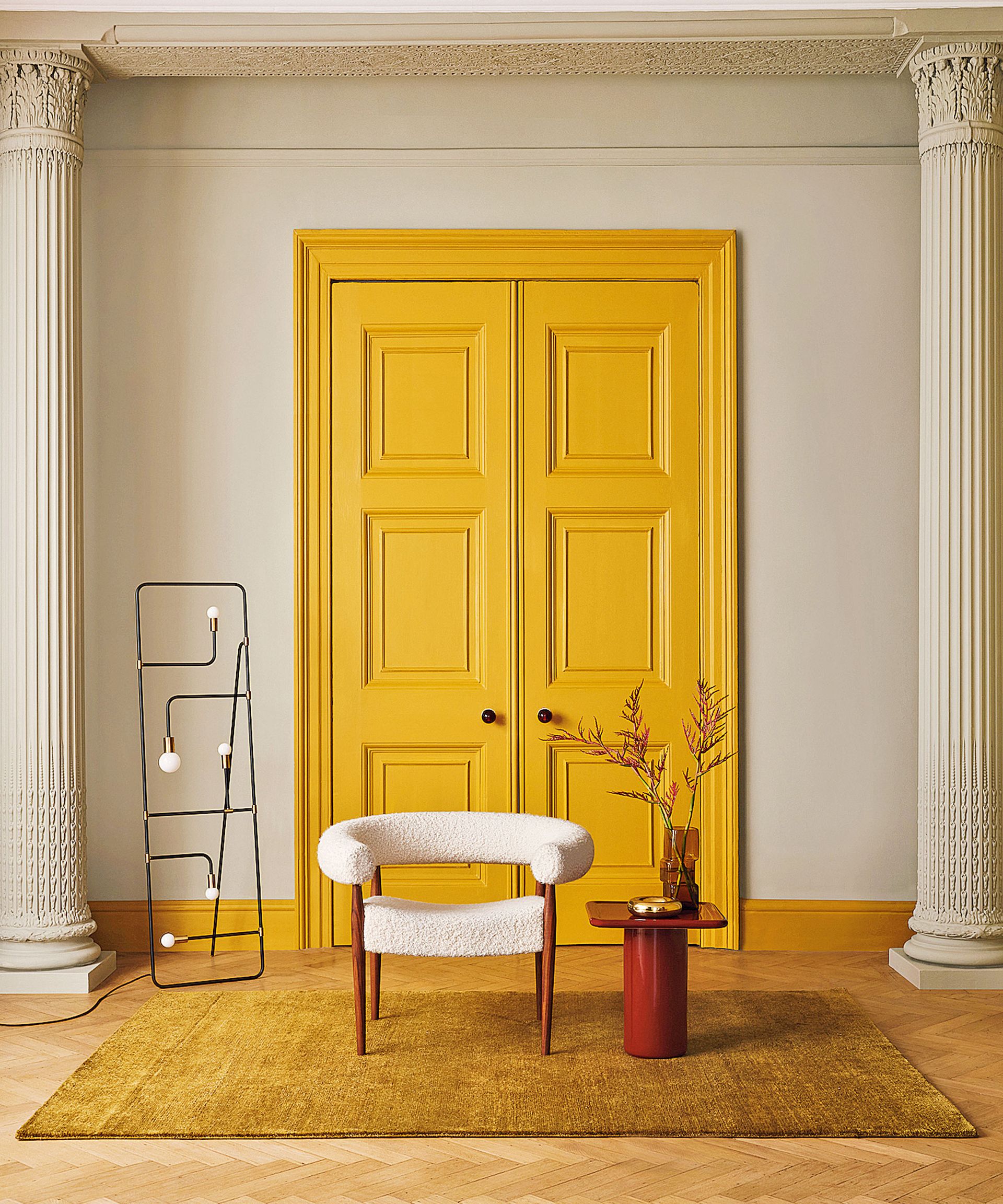 In all its forms – from citrine to mustard – yellow has the ability to introduce joy to a space, and it is a wonderful way to make an entrance truly sing. 
Here, the deep rich Bengal yellow from Graphenstone on these grand double doors brings a modern edge to this classic space. Confining a bold color in such a way avoids overwhelming a space while also ensuring the doors offer a striking focal point. Such a rich tone works beautifully with a paler shade, Graphenstone's Lovat, as seen here on the walls and columns.
6. Plant vertically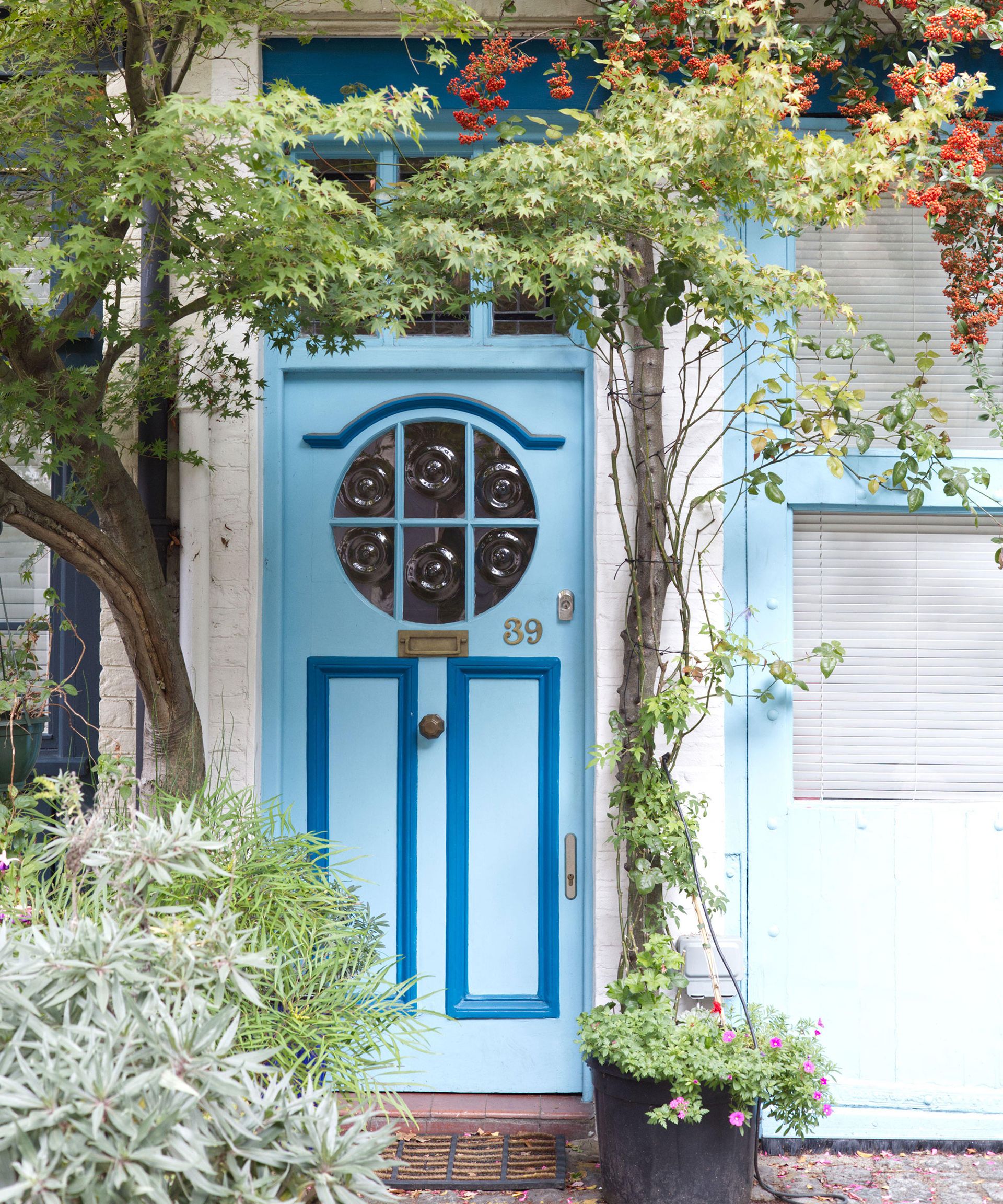 While not necessarily a front door idea, a fragrant living wall will make a beautiful addition to the exterior of your home come summer. 
A natural and growing garden decorating idea, in urban areas living walls can also help keep buildings cool and reduce noise pollution, as well as provide a habitat for wildlife, too. They are a particularly useful summer front door décor idea where space may be limited, but are worthy as an impactful design feature in their own right.
A large range of herbaceous perennials, grasses, small shrubs, herbs and even fruit and vegetables can be used on your living wall idea. Get creative with your vertical garden. Try including scented plants, seasonal flowers and bulbs, but check your chosen plants will suit the aspect, microclimate and conditions of your exterior.
7. Hang a curtain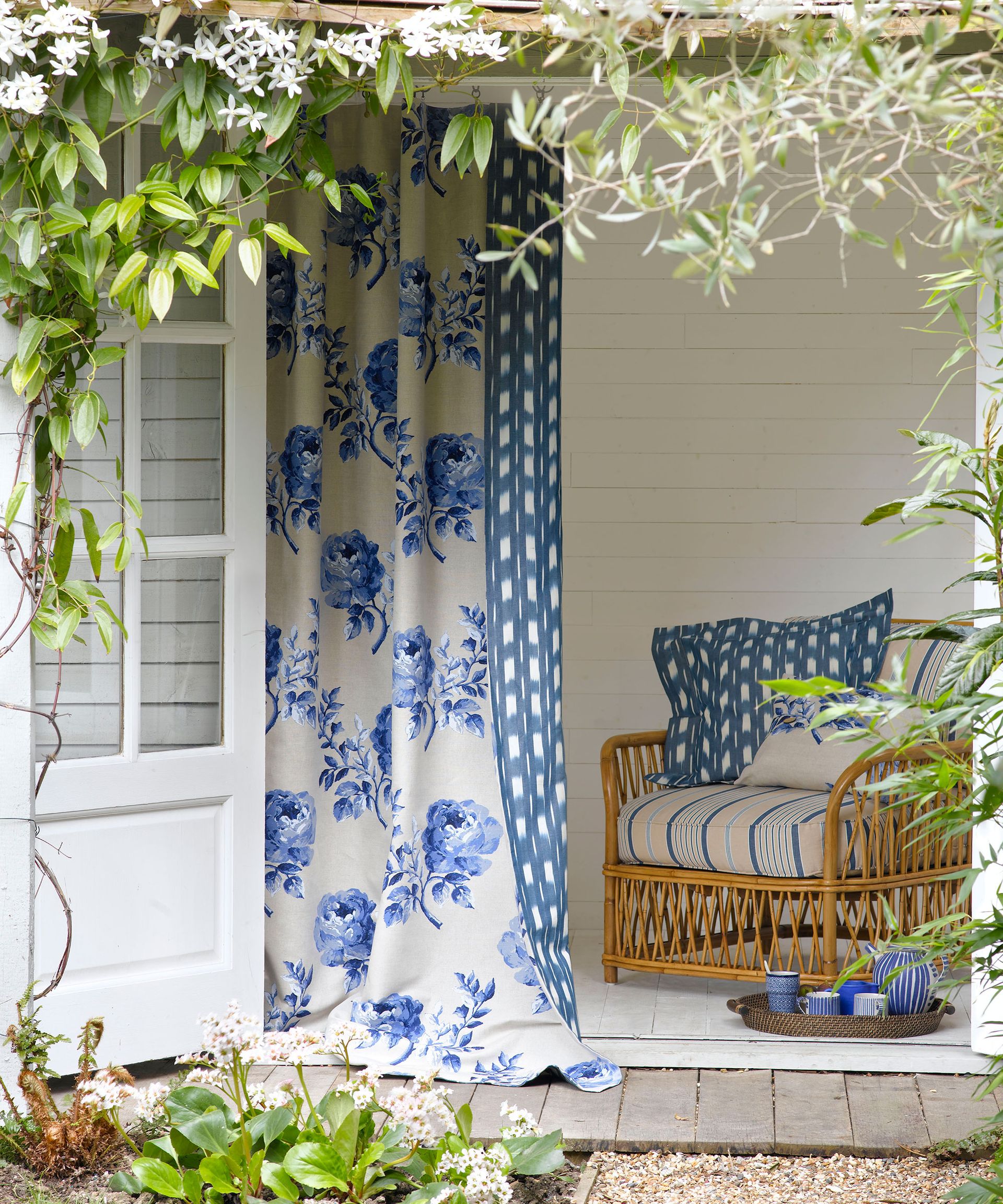 The summer sun can at times become too hot to handle, so hanging a curtain behind the door is a great way to keep your home cool in a heatwave.
Keeping your house cool is essential during a heatwave and, if you find that your house lets in direct sunlight, especially in the afternoon, you could find that conditions quickly become unbearable. 
The right window treatment ideas could be just what you need to ensure your home stays cooler for longer. If your house does experience more sunlight throughout the day then it's recommended you keep your curtains, shutters and blinds shut to stop the sunlight from beaming into your home. This will keep things marginally cooler and slightly more bearable during heatwaves.
8. Hang a colorful wreath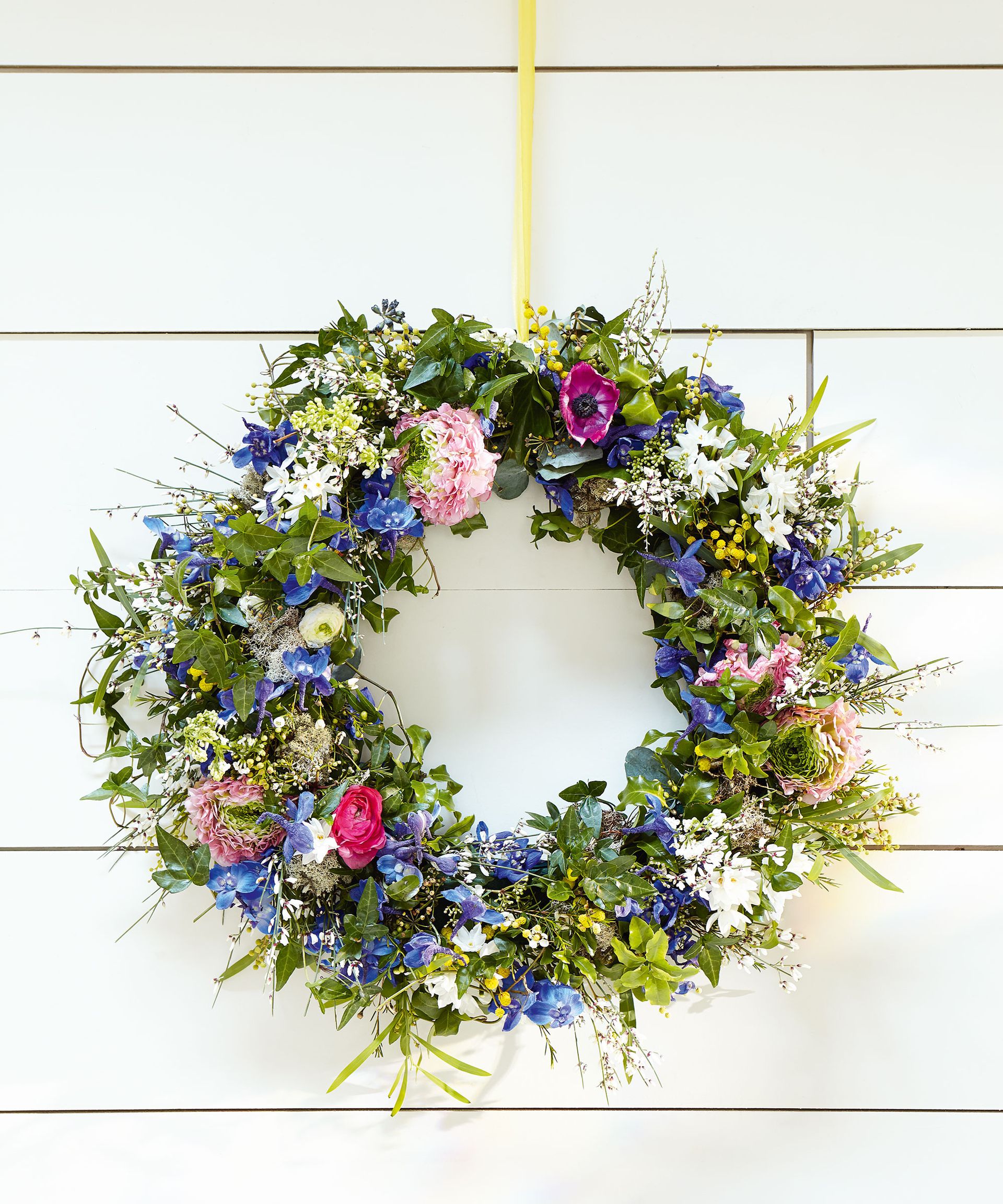 If you think wreath is only for Christmas or Easter, think again. Bring the color and fragrance of the season to your summer door with the prettiest wreath ideas made from flowers, sprigs and blossom. Summer decor is creative a sense of joy and happiness – as well as celebrating the colors and sights of the season.
Even the simplest of wreath arrangements will instantly lighten the mood and add a welcome vibrancy to your home in time for the summer sun.
Have fun playing about with scale and color but keep the overall effect simple and allow the natural beauty of the flowers to shine through. 
How do you decorate a summer front door?
There are many ways to decorate a summer front door that don't involve a wreath. Clever lighting will accent even the simplest planting schemes; drawing the eye to the prettier aspects of your façade. In place of glaring floodlights, designers now layer conventional sources like lanterns with discrete downlights or concealed step lights for a soft glow come evening.
Another option is to rethink your door furniture and front door color scheme. A cohesive color idea and flourish of bold ironmongery and you have all the ingredients of a front door that is not simply practical but personal for each season.
As interior designer Harriet Anstruther concludes: 'Your door can be so revealing; it's the threshold to your castle symbolizing whether you want your home to a retreat, or a talking point.'